Outlet Low Prices antique peasant linen sack hand spun, handwoven, grain, flour li Offer Discounts
home
antique peasant linen sack hand spun, handwoven, grain, flour li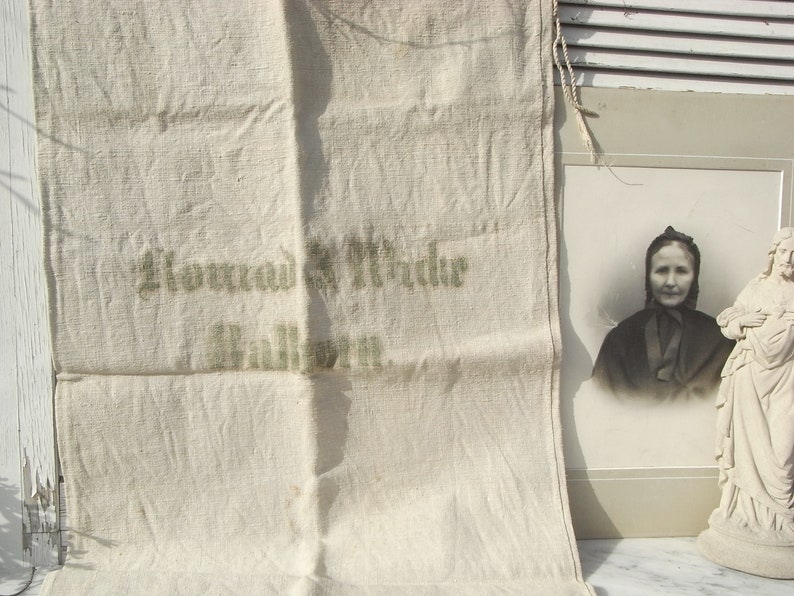 The Corona Pandemic can lead to longer delivery times. We ask for understanding and patience. Overseas packages weighing more than 2 kilograms are partly transported by sea. The delivery time can take more than 45 days. If you would like to be shipped faster by plane, please contact us before purchasing.


Historical linen sack, hand-spun, handwoven, often used, undamaged, but with yellowish shadows. Printed with the name of the previous owner. Conrad I. Wicke. With red, hand-embroidered monogram CW on the unprinted back.

For printing, a home-made pigment paint was used, which at that time was originally intended for the painting of furniture. The brown shadows are darkened linseed oil. The bag was stored washed in a wooden chest.

The fat shadows become brighter over time, but remain for a long time.

Firm and opaque hand-woven, antique, natural beige, flax - burlap with enchanting texture. Medium coarse, very dense, woven around 1900. Rare green print applied with a stencil. Not made by me. An antique original. At the top of the border, the thread is sewn on. A great agricultural manual work that should last for several generations.

Size: 64 x 126 cm. Weight approx. 1240 grams.

1 sack for 1000 uses. For dirty laundry, waste paper, hats and scarves next to the wardrobe, plastic beverage bottles.... He swallows everything wordlessly.

Long stored - lightly dusted, but it smells a bit like a mixture of wood and dust. Both can be washed out well. The yellow shadows may not be washed out. sale at special PRICE.

Good old organic quality, made before sprays were used.

Slight color deviations from the photo are possible.
Delivery 1 bag, WITHOUT further decoration.
You will find more old treasures, linen fabrics, sacks and linen linen in the shop.


Please note that the items are subject to differential taxation in accordance with Section 25a of the UStG and VAT cannot be shown separately.

imprint:
Andrea Wolf Internet Handel, Korbacher Str. 19, 34513 Waldeck, Tel.: 05634 / 994973, Mail: andreawolf1a@web.de, Ust-ID: DE237450900, Office hours: Monday to Friday 1:00 p.m. to 6:00 p.m.
|||