Max 83% OFF Hand Knitted Toddler Hat, Knit Kids Winter Hat, Knit Kids Hat, F Outlet SALE
home
Hand Knitted Toddler Hat, Knit Kids Winter Hat, Knit Kids Hat, F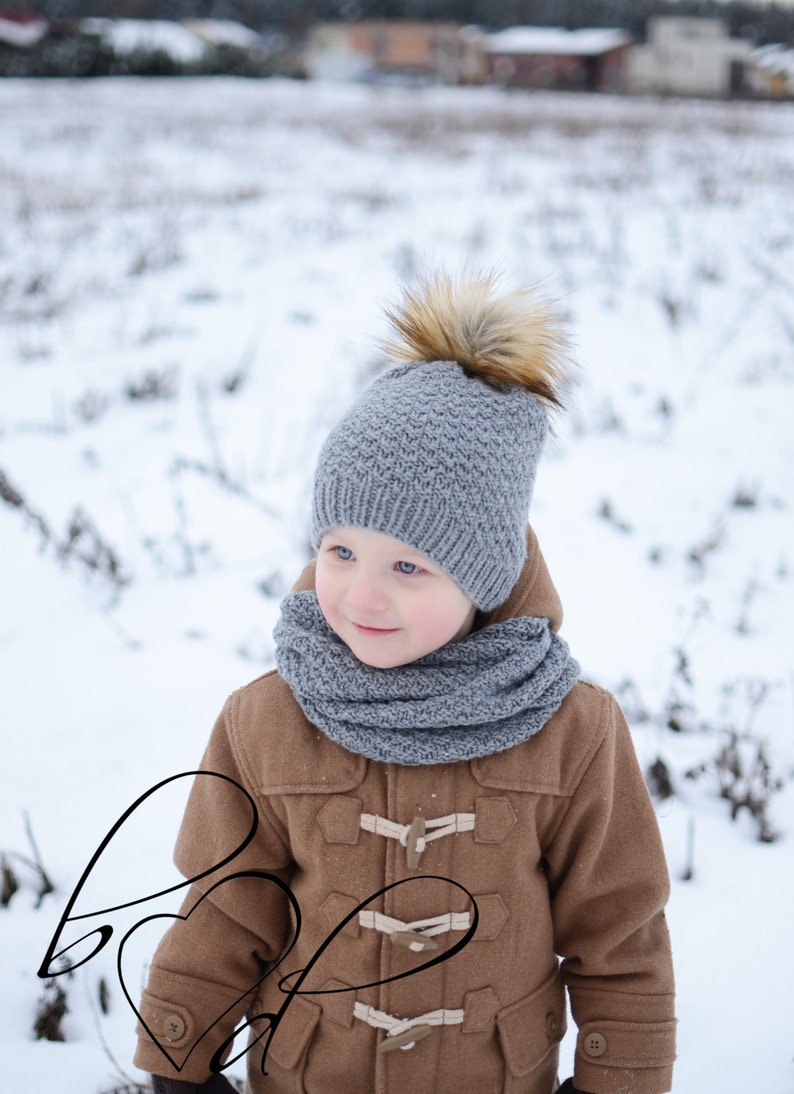 Luxury, warm and super trendy merino wool hat with faux fur pompom. The hat is hand knitted from the finest quality merino wool that is incredibly soft, luxuriously gentle next to the skin and will help keep your child warm all winter. The faux fur is 12-15 cm in width and is detachable via a metallic popper allowing you to mix and match the bobble on top and wash your hat easily.
Sizes of the hat are according the circumference of the head or age. To measure the head use a flexible measuring tape, measure the circumference at the widest part of the head at the back and just above the eyebrows in front. These sizes are based on general sizing. A head measurement will always be most accurate.
0-3 months size is 14#39;#39;-16quot; (36-40 cm)
3-6 months size is 16#39;#39;-17quot; (40-43 cm)
6-12 months size is 17#39;#39;-18quot; (43-45 cm)
12-24 months size is 18#39;#39;-19quot; (45-48 cm)
2-4 years size is 19#39;#39;-20quot; (48-51 cm)
child size is 20#39;#39;-21#39;#39; (51-54 cm)
teen size is 21#39;#39;-22#39;#39; (54-56 cm)
adult size is 22#39;#39;-23#39;#39; (56-58 cm)

You can choose a hat with ear flaps and strings that is recommended for smaller kids as they strive to take off the hat from the head or without them that is recommended for senior child.

This hat as a set goes with an infinity scarf that is knitted seamlessly from the same material and color, wraps twice and stays snuggle to ensure the warmth.

Love the style of the hat but prefer different color? Just check out the yarn color chart in last photo of the listing and let me know in the Message from Buyer section if you would prefer different color. If no message is left, hat will be made in grey color (No.4) with brown pompom as shown in listing photos.
No.1 - off white
No.2 - beige
No.3 - light lilac
No.4 - grey (shown in listing photos)
No.5 - marble
No.6 - lavender
No.7 - amethyst
No.8 - plum
No.9 - orange
No.10 - red
No.11 - maroon
No.12 - dark grey
No.13 - light blue
No.14 - jeans blue
No.15 - navy blue
No.16 - black

Product Care:
Remove pompom (it should not get wet), hand wash in lukewarm water, highest temperature 30°C/86 F, this will ensure the product remains soft, mild and fluffy. Careful wring, dry flat. Reattach pompom.
|||