Wide Range USA Astro Spaceman Robot in 15quot; Light Up Wood Display Box Crate Cheapest Online Price
home
Astro Spaceman Robot in 15quot; Light Up Wood Display Box Crate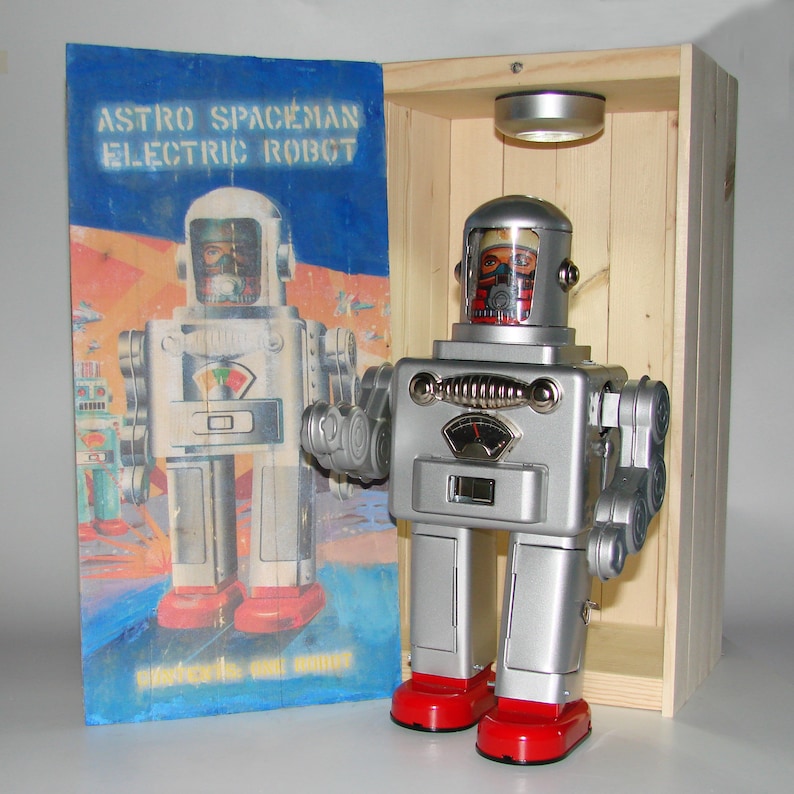 7
Blinking space helmet! and light-up dashboard! Electric stop-n-go walking action! ASTRO SPACEMAN is a 12" tall tin robot based on the original late 1950's Yonezawa Astro Scout and Smoking Man from Japan.

Each tin robot is packed inside our hand made 15″ tall wood display crate featuring original vintage robot box artwork, hand lithographed onto a wood cover with an aged appearance to complete the vintage look. The crate has an interior dome light to illuminate and display the robot. (batteries included!)

Each set is individually numbered in a limited series of 100 sets per robot. Includes numbered certificate of authenticity. These are VERY COOL deluxe robot sets any robot fan or collector will love!



------------------------------
NOTE: Each robot and crate is hand-made. Imperfections in fit and finish are normal and part of the unique characteristics which make up each set. Scratches and touch-ups are a result of the traditional manufacturing process, where tin sheets are color lithographed, then die stamped and punched in a metal press. Likewise, each wood crate is built to look like an old shipping crate, complete with knots. No two robots or crates are exactly alike.

Tin robot and wood display crate are not toys. For safety, adult collectors only please. Contains batteries and small parts.
|||