San Antonio Mall RED OAK BURL G+ hollow vase #15043 made by Smithsonian Artist, D quality assurance
home
RED OAK BURL G+ hollow vase #15043 made by Smithsonian Artist, D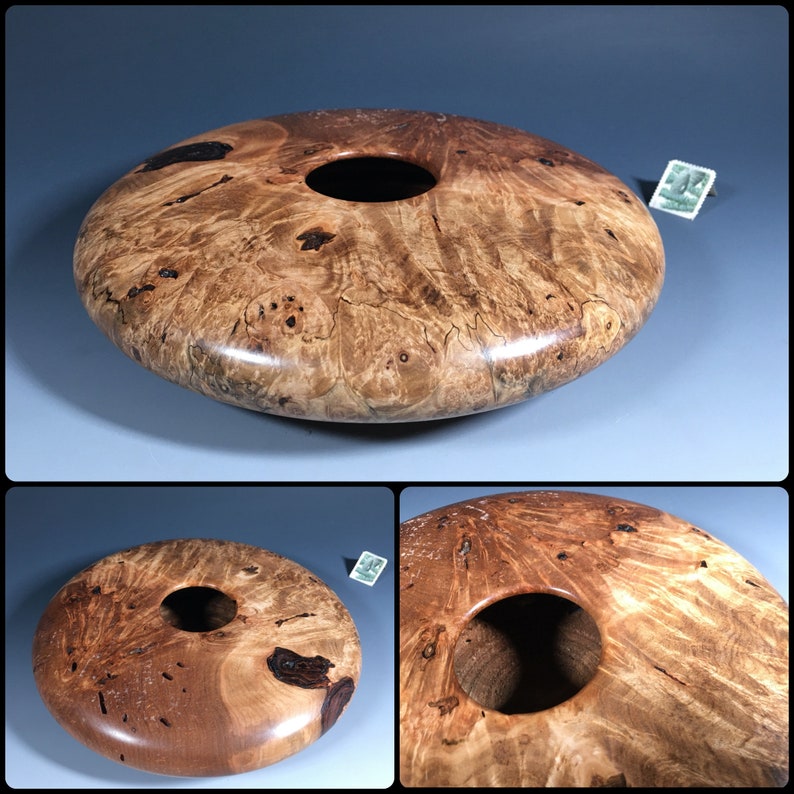 0
This is a RED OAK BURL G+ hollow vase #15043 made by Smithsonian Artist, David Walsh. This vase is 9" in diameter and 2" high at its highest point and is signed, numbered and includes a "CERTIFICATE OF AUTHENTICITY." Walsh has been making bowls for 19 years and has sold his work at the Smithsonian#39;s Renwick Gallery and in other well-known Fine Arts and Fine Craft Galleries in the United States. Harrisburg National Public Broadcasting Station - commissioned him in 2003 to make 50 bark-edged bowls from one tree. The entire process from tree to finished product was filmed and aired on the PBS television channel. For international shipping contact the seller.


Photos are of the actual piece.

PLEASE! Use a ruler to help you determine its size as the photos do not show that.

Additional photos are those taken around the studio or on site recovery operation



I have over 5700 comments and 100% positive feedback on eBay.
Here is some of what people are saying:


Purchase #2 - I#39;ve also bought his work at the Renwick Gallery @ the Smithsonian
Take a close look at Mr. Walsh#39;s customers. Numerous multiple purchases. AAAA+
Need more room! wonderful person, fabulous artistry. On 5 star scale is a 12!
WORDS CANT DO THIS BOWL JUSTICE. DON#39;T HESITATE TO BUY, AWESOME.
David Walsh is a world class artist. Magnificent turnings. Worth your attention!
In 2 months, I#39;ve bought 15 of David#39;s pieces. That says it all about his work.
Another work of art from David....you are a wood magician!
Beautiful piece, light seems to spring from it. As always, fast secure shipping
A++++++++++++ Great artwork, fine detailing. Will order again, again, and again
Beautiful work, splendid craftsmanship, fast careful shipping, ebay#39;s best
Great ebay transaction! Bowl way beyond my expectations! Fantastic packing!
Striking colors, beautiful form, lovely to touch!
Another Superb Work from this MASTER Craftsman!!!!
This is sure to become a family heirloom, a delight to several of the senses.
Beautiful job of recycling, the bowls feel like religious objects in your hands.
Stunning Bowl!! If you get the chance, use quot;Buy it Nowquot;!!!
Have no doubts, this is THE MAN for your turned wood. A+ in all aspects
I knew they#39;d be nice, but these are incredible!!!!!!
Building up my collection of David Walsh vases......valuable collectibles......
I received my bowl in the mail today, I#39;m blown away! The picture did not do this piece justice. David has a gift! His work just leaves me wanting more!! I#39;m honored to have I think its six bowls now. I#39;m sure you#39;ll be seeing more orders from me in the future!
Great service. I just got my bowls just a few minutes ago and they are fantastic. I wish all kickstarter programs were as efficient as yours!! Again many thanks and looking forward to the next campaign
All bowls safely received across the pond. They are every bit as beautiful as I hoped they would be!
The bowl is stunning. Thank You!!!!!!!
Got my bowl today. Beautiful craftsmanship! Thanks David!
Received the redwood bowl last wednesday and what a pleasant surprise it was. An exquisite piece of craftsmanship.
I received my spalted maple bowl a while back--it#39;s gorgeous! One of my favorite woods.
I#39;ve seen a lot of local woodwork bowls, but none as beautiful as this. I think it#39;s really interesting how you turn the wood into something almost completely different. It almost looks like marble. I love how the bowls are both rustic but also so posh. It#39;s fine art!
David - your pieces have soul!
absolutely gorgeous! I#39;m working on it now for a small sculpture!
Beautiful - I can#39;t stop looking at all of the colors and swirls. So happy with this purchase.
Absolutely gorgeous piece finished to perfection! The natural beauty of the wood is enhanced to the utmost via the superb craftsmanship of David Walsh. Thanks David for another pleasant and seamless transaction.
Gorgeous!!!!!! I have purchased a number of pieces from this shop and it is impossible to choose a favorite. I love them all!
Excellent craftsmanship. As beautiful in person as pictured. Accurately depicted. Arrived quickly and well packaged. Very happy!



I am a Pennsylvania-based artist and woodworker. My work has won multiple awards and has been featured and sold in galleries throughout the United States, including the Renwick Gallery at the Smithsonian. A lifelong woodworker, I first started woodturning in 1998 and quickly gained a following as quot;David Walsh, The Bowlmakerquot;. As of 2016, I have turned over 13,000 signed and numbered bowls that range in size from miniature at 1.5quot; in diameter to enormous at 26quot; diameter.
|||