Sale For 50% Off Princess Marina, The Duke of Kent, Official Programme of the Pro Buy USA Shop
home
Princess Marina, The Duke of Kent, Official Programme of the Pro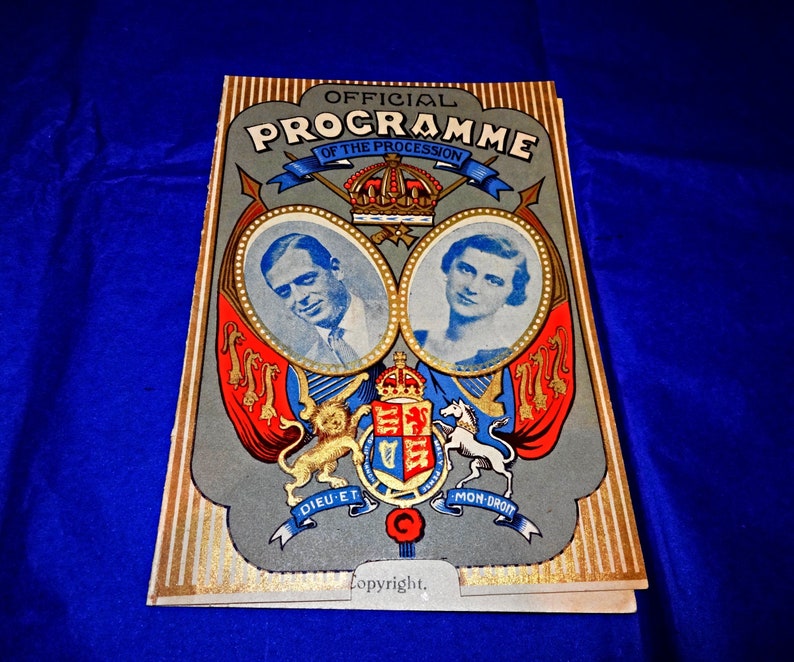 Vintage #39;Official Programme of the Procession the Royal Wedding H.R.H. the Duke of Kent and H.R.H. Princess Marina Thursday, November 29th, 1934#39;. This is EXTREMELY SHORT but rather RARE, and I#39;m not one of those sellers who describes everything as rare. It#39;s the size of a medium sized greetings card, it has a front and back cover and the inside of the covers are printed with the information, there are no extra pages. It measures 17.4 cm long (a little under 7 inches), and 12 cm wide (4 and 3/4 inches).

CONDITION: The front cover has either been price-clipped or a section cut out at the time to show that it#39;s been paid for, something along those lines anyway; Whoever initially folded it wasn#39;t very accurate at getting it level; It#39;s in good to very good vintage condition.

It provides information about the planned route of the royal procession to Westminster Abbey, which is where the wedding took place. It also describes who was due to be in each of the 3 processions. Finally, it provides information about the wedding ceremony itself.

It was printed by the East London Printing Co.

Prince George, Duke of Kent, married Princess Marina of Greece and Denmark, not Katharine the current Duchess of Kent. Marina had the title of Duchess of Kent from 1934 to 1961. Prince George was killed in World War Two (in 1942) whilst in the Royal Air Force. Marina died in 1968 at the relatively young age of 61.
|||