Online Retailers Tablet woven wool trim. Viking reenactment, medieval historical Sale Online Shopping 100%
home
Tablet woven wool trim. Viking reenactment, medieval historical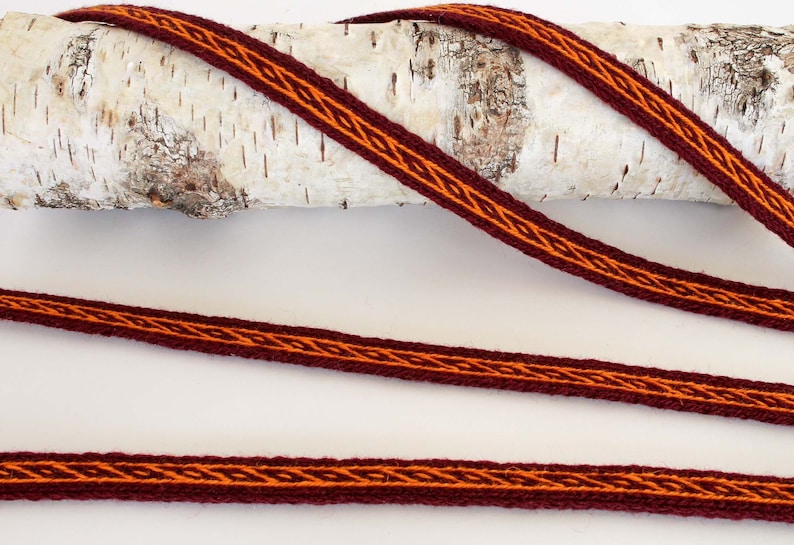 Tablet woven wool trim with dark red and orange pattern. This pattern is suitable for historical Viking reenactment, for medieval, larp or sca costumes.

Card woven band can be used as a decorative band for folklore costume or is also used as a woolen belt, headband or leg wrap.

Suitable for reenactment outfits.

Based on archeological finds from Osseberg, 9th Century.

Dimensions:
Width: 1,7 cm / 0,67 inch
Thickness: 3,5 mm/ 0.138 inch
Length: You can choose your own length. Just choose the length option.

Tablet woven braid is made from 100% sheep wool high-quality thin yarn. Woolen yarn might still slightly smell like sheep wool. There is no strong odor.

The actual color may slightly differ from the one shown in the picture, because of monitor settings and light.

••• Taking care •••
Hand wash in water up to 30°C.
Woolen products need to be washed with care, avoiding strong rubbing.
Use detergents only for wool. Best to wash with laundry soap.
Do not use bleach.
Wash only with wool products of a similar color.
Woolen products should not be dried in the sun.
Permissible mechanical drying at low temperature.
Wool products are not recommended for drilling (they can become wrinkled, lose shape, etc.).
Dyed wool should not be soaked and stored for a long time in water.
Not recommended to ironing wool products.
|||