Max 43% OFF Vintage Mola Panel Virgin Mary Colourful Applique Piece Huge Discounts For Sale
home
Vintage Mola Panel Virgin Mary Colourful Applique Piece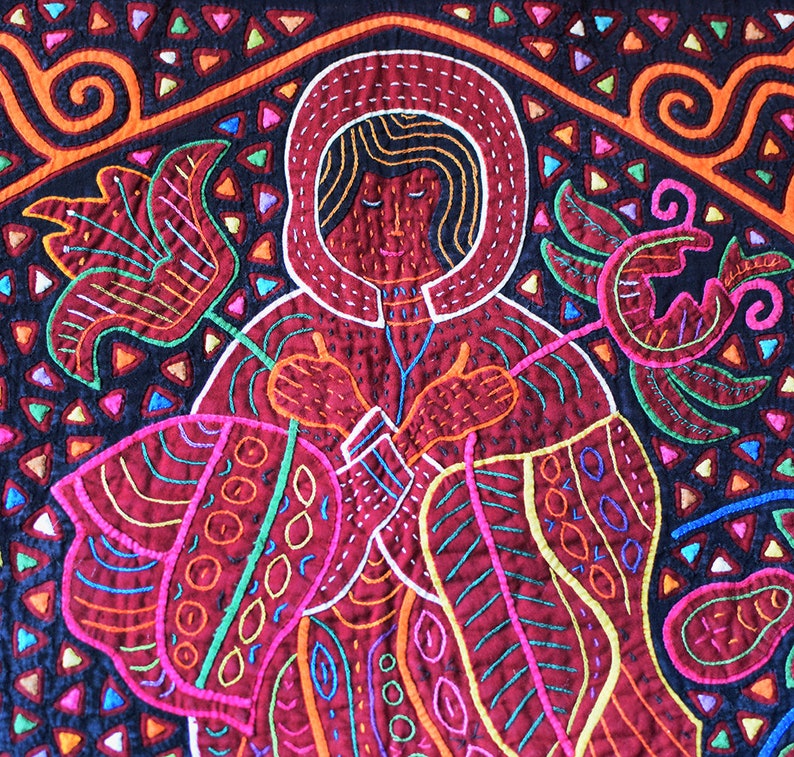 4
A vintage mola panel with a Virgin Mary motif made by a Kuna woman from Panama.

Hand crafted piece of polychrome appliqué work in dyed cotton fabric and thread.

Depicts the Virgin Mary cloaked and in repose with crossed arms holding a lily and an orchid. She is flanked on either side by an orchid plant and a fruiting gourd vine while a pair of stylised orchids create a frame and arc over her head.

This is the work of a skilled maker: the smallest details have been embroidered in a mix of tiny chain and running stitches and the distinctive multicoloured triangles dotted over the backround give a nice sense of movement to the piece.

It measures 46cm / 18quot; wide by 39cm / 15.25quot; high. Dates to the 1980#39;s or 1990#39;s and in very good condition.

Molas are intended as front and back panels for the blouses worn by Kuna women with their wrap skirts, but they have become popular for framing and as fronts of cushion covers.

The word quot;molaquot; derives from the plumage of birds and these pieces evolved from past ritual practice of body painting which became less prevalent with the arrival of the Spanish to Central America.

Molas most usually depict traditional symbols from Kuna legend, and this piece is a blend of the Old and the New Worlds.
The plants are symbols of purity and fertility and the little triangular pips are said to represent the Kuna#39;s bamboo huts, and are symbolic of family protection.

Molas can take weeks or months to complete and employ a technique of sandwiching several layers of different coloured fabric together and then cutting though and hemming under the designs.

Shipping quotes include tracking and insurance.
|||