Outlet Store Sell Cheap Chuppah Glass Art 11x14-Jewish Wedding Art-Wedding Glass Framed- Cheapest Online Outlet Good Smile
home
Chuppah Glass Art 11x14-Jewish Wedding Art-Wedding Glass Framed-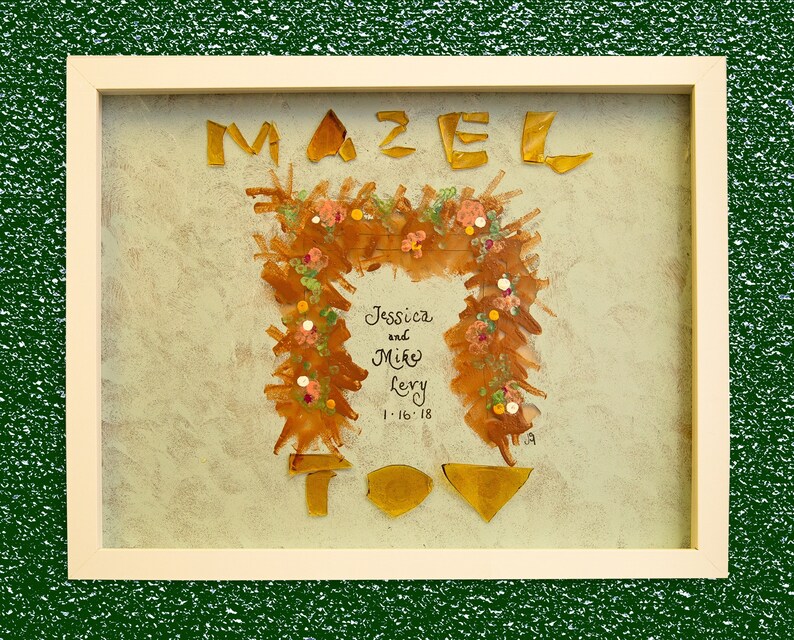 4
-This is a unique 11" x 14" hand painted piece of art depicting a Chuppah (the canopy under which a Jewish couple stands during their marriage ceremony, symbolizing their new home together) - or you can send us a picture of your own Chuppah to copy when you fill out our Personalization Form. The glass pieces broken under the Chuppah have been joined together again to spell out the words you choose from 8 phrases we've indicated. Please choose one according to the size you've chosen on the Personalization Form.

-It can be personalized with the names of the Bride Groom their wedding date (Again, you will include all that exact info on the Personalization Form you'll receive when you place your order) You can also include your own card, if this is a gift.

-It is framed in an open shadowbox/frame (an open recessed frame) and the broken glass is completely 3 dimensional. The frames are available in gold metallic, white wood, natural distressed wood and grey distressed wood. THE FRAMES WILL NOT BE PERFECT. Expect them to have marks and look more natural this way. They're available in 3 sizes: 9x9, 8x10 and 11x14. Not all colors are available in all sizes. Take a look at the other samples in our shop to identify which size kind of frame you like best. Again, you'll specify your color choice on your paper form. If your first choice is not available, we will email you and let you know what colors are available in your choice of size. Please choose from our updated list. THE SIZE YOU CHOOSE WILL DETERMINE THE PRICE.

-When you place your order and choose your frame size, you'll first receive an imprinted black velvet pouch. It will also include a self-addressed insulated envelope for you to mail us back the broken glass in the pouch after the wedding. POUCH SHIPPING IS FREE! (In the US) No other company can offer you these items free of charge. What a conversation piece! What a treasured momento!

Already have your broken Chuppah glass? Just indicate that when choosing a glass color we'll send you your own personalization form return mailer (NO LIGHTBULBS, Sorry).

If you'd rather use a broken plate (as is done at a Tena'im ceremony) instead of a broken glass or have us use one of ours - please order the BROKEN PLATE ART instead of the Chuppah, also found in our shop.

Thank you so much! Looking forward to being part of your Simcha!
|||