Best Deal The Magnet Shop A3 Magnetic Weekly Planner - Dry Wipe Whiteboard USA Shop Discount
home
The Magnet Shop A3 Magnetic Weekly Planner - Dry Wipe Whiteboard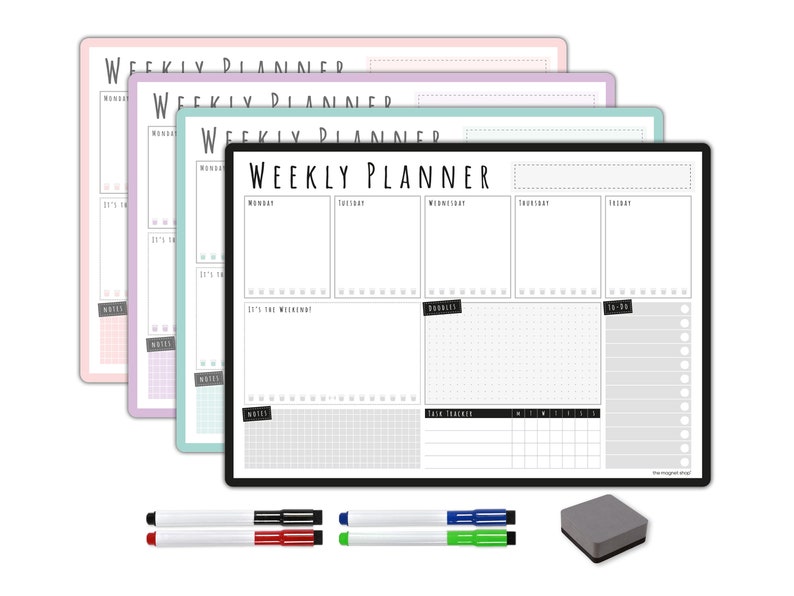 WHAT YOU GET – A flexible magnetic whiteboard designed to help you organise all of your weekly tasks, projects and chores. Each board is 0.5mm thick and has a fully magnetic backing on the rear and our premium dry erase finish over the front design. Each purchase comes with a pack of 4 multi-coloured pens and a standalone eraser, both of which are magnetic also!

FULLY CUSTOMISABLE – These memo boards offer a combination of sections to write different assignments or responsibilities that you are tracking throughout the week. You can write short daily memos, track your water consumption or hydration, make a tick list of high priorities and more. Choose between a more geometric inspired planner, with line or dotted graph sections for doodles and scribbles, or one which focuses more on personal goals. You choose the design to suit your lifestyle!

MODERN AESTHETIC – The minimalist design of our Combination Planner Range will not only allow your thoughts to be eye catching, but you can also choose a colour that will suit your personal space. Our Lead Graphic Designer has crafted each of these planners to be tasteful yet universally applicable, ensuring that each design will suit any home, office or student decor. The subtle to striking colour variations will allow you to show your personality throughout your planning.

PERSONAL TOUCH – We make sure that each order is packed by hand in our Devon based factory. This starts from carefully placing the Combination Planner into our packaging tube, which is followed by a set of our four whiteboard markers and a square standalone magnetic eraser. The entire package is enclosed by two end caps which are secured with an industrial staple or two. We pack all of our products in our TMS branded packaging!

QUALITY CONSTRUCTION – Made in the UK from premium materials so you can be sure your new magnetic memo board will last a lifetime*. Our whiteboards are made in a 3 layer process with a flexible magnetic base, followed by state of the art digital printing on premium paper, and finished with a specialist gloss. All of which ensures a long lasting dry wipe surface. We also work with ethically audited suppliers to ensure our products are made from sustainable materials, so buy with confidence!

Product Description:

This is a premium flexible weekly planner with a fully magnetic back and our premium dry erase finish on the front. These organisers are A3, measuring 42cm x 30cm. Each planner includes 4 multi-coloured marker pens to help you highlight keywords and tasks, as well as a standalone eraser.

You can use your new board at home to organise family chores, meals and events or in the office to track and prioritise business tasks. There is even plenty of space for each day of the week. Use this planner to organise your thoughts with the various sections to divide and conquer your busy schedule.

It is a fantastic student planner to help you stay on track whilst studying from home, or as a family planner to keep everyone organised. Our Combination Planner incorporates all of the compartmentalising you would need to increase your productivity. These planners are great visual reminders for everyone.

Each of the markers have a felt eraser on the end, to make tidying up minor mistakes or scribbles quick and easy. The larger eraser is then great for creating a clean slate allowing you to start preparing for the week ahead.

Produced in the UK using specialist manufacturing and printing methods from top quality materials that are sustainably and ethically sourced. Be sure to check for our TMS logo on the packaging to ensure your purchase is genuine.

TOP TIPS:

To ensure the maximum lifespan, avoid leaving oil and dust staining by regularly cleaning the whiteboards with a cloth and warm, soapy water. Please ensure that the cloth does not have any grit, or you may permanently damage the dry erase surface.

Always use the right markers. Only use water-based markers, as oil based marker pens are not compatible.

The magnets can only stick to iron objects and magnetically receptive surfaces. For example, fridge doors, filing cabinets, iron doors and shelves etc. Not compatible with stainless steel, aluminium and plastic objects.
|||